According to the National Council on Aging, dehydration is a potentially serious condition when you don't consume enough fluids for your body's needs. This can lead to health complications ranging from mild to life-threatening, such as urinary tract infections (UTIs), heat stroke, heart problems, kidney failure, and blood clot complications. Since dehydration affects the health of your cells, it can also lower your body's ability to ward off infections and heal from injury or illness.
Older adults are more prone to becoming dehydrated for several reasons, including a reduced sense of thirst.
We all know that temperatures soar this time of the year in Limpopo and Mpumalanga. At MacCare we make sure that our residents stay hydrated. Feedem swung their magic wand and created some refreshing drinks that everybody enjoyed.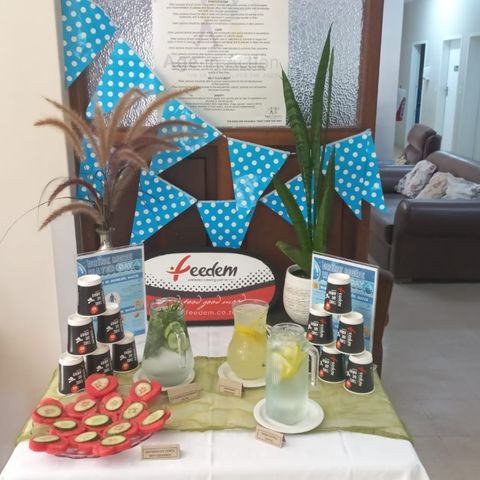 With over twenty years of experience in caring for older people, we understand that you're looking for services and facilities that promote a healthy and caring environment. Whether you're looking for care for yourself, your elderly parents, or your beloved partner, our team of expert staff will work with you to assess your health care needs. We offer advice and care services that meet your requirements and your budget, and make sure that the person feels respected and part of a caring community.
Macadamia Care has Care Centres in Polokwane, Tzaneen (Limpopo), White River and Nelspruit (Mpumalanga) and Somerset West (Western Cape). To contact us, click here.